1934: The Royal Ulster Rifles - Intelligence Officer
It was in Hong Kong that Terence Otway took up his post as Battalion Intelligence Officer.

This was followed by an assignment to the Coding Department. Indeed, Terence Otway became responsible for decoding all messages from the Foreign Office.

His Battalion was then sent on a mission to Shanghai. Every day, his unit came under fire from Japanese raids. This was Terence Otway's baptism of fire.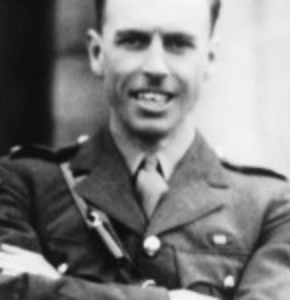 1937: The Royal Ulster Rifles - Transmission Officer
Terence Otway was made a Lieutenant in his Battalion, as a Signal Officer. From China, he was posted to India with the Battalion, where he experienced further active service against tribesmen on the frontier with Afghanistan.
Being well qualified from his time at Staff College and the War Department, he was disappointed not to be given command of a company, and made this known unofficially at top level. 
1943: Second in Command of the 9th Para Battalion.
His top level prompting produced results, and he then found himself posted as a Major to the newly formed elite Parachute Regiment, after passing its extremely tough selection course. Here he was appointed Second-in-Command of the 9th Battalion of the Parachute Regiment, later promoted to Lieutenant Colonel to take over as its Commanding Officer. 1944: Lieutenant-Colonel of the 9th Para Battalion.
In April 1944, Terence Otway was told of his promotion by Brigadier James Hill at Bulford Camp. He took command of the 9th Battalion.

The invasion of Europe was being planned.

He learned that his Battalion has been assigned a very special mission: to neutralise a heavily-armed German coastal defence battery.

That was all that Terence Otway was told. All that was made clear was that this objective was a major component of the 6th Airborne Division's D-Day assault plan.

This objective was classified as vital to the success of Operation Overlord.

Terence Otway now had a free hand to develop his plan of action; he would have to report back as soon as possible.
Terence Otway was awarded the Distinguished Service Order.

Terence Otway remained in the Army for a few years after the war. He subsequently resigned.