24/03/1913 – 1998
(ID number) Matricule : n°6025157
Sid was born in East Ham, London, on 24 March 1913. At the outbreak of war, he enlisted for the Army and he was serving as a sergeant with 10th Battalion, The Essex Regiment. In December 1942, the 10th Battalion was redesignated as the 9th (Essex) Parachute Battalion.
On the night of 5/6 June 1944, he parachuted into Normandy with 9th Parachute Battalion, whose task was to destroy the guns of a 4-gun coastal battery at Merville, near Caen. He initially fought as a member of No 4 Anti-Tank Platoon, Headquarters Company. During the attack, his orders were to take a diversionary party of six men around the perimeter and make a noisy break-in at the main gate while the rest carried out a main assault through the breaches in the perimeter.
During the assault, pinned down by machine gun fire from the right flank, Sidney immediately took three men, assaulted the machine gun position with grenades and bayonets. His attitude this morning under heavy fire had a considerable bearing on the success of the operation.
During the action Sid was ordered to pick a small party of men to neutralise all enemy machine guns situated around the perimeter of the battery. These feats of arms earned him the award of the Military Medal will be given personnaly by Field marshal Montgomery.
Sid was later promoted to Company Sergeant Major of C Company and fought with the battalion in the Ardennes. He made a second combat jump for Operation Varsity, the Rhine crossing into Germany on his 32nd birthday, the 24 March 1945, carrying a cake baked by his wife.
On return to civilian life Sid, with his wife, held various positions, mainly in the retail trade, until retirement, when he moved to Dorset in 1978. Sid was a loyal member of 9th Parachute Battalion Reunion. Sadly, in 1992, his wife Gladys died. Sidney came back many times in Normandy until passed away in 1998.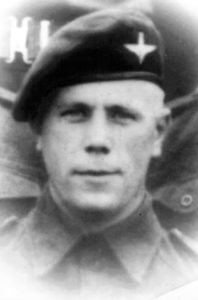 His enthusiasm and great desire on every possible opportunity to join battle with the enemy coupled with a complete and continous contemps of danger has marked him out as a splendid leader whom every man would willingly follow under all circumstances.