1925 – 25/04/2018
Ron Tucker lied about his age and joined up at 16. He was just 18 years old when he parachuted into Normandy as part of the 9th battalion, tasked with assaulting the Merville Battery. He was part of Major Dyer's stick which was dropped too far from the drop zone. He then took part in the fighting at Le Mesnil, the Château de St Côme, throughout the Normandy Campaign.
He went on to fight in the Rhine Crossing campaign, and was awarded the Legion d'Honneur in 2016.
At one point during the campaign he had a lucky escape when a bullet passed between his webbing and hit the crucifix in his pocket. The bullet broke on impact, just missing two grenades. He died on April 25, 2018, at the age of 92. He was buried with his beret and para badge. His story is told in the book "A Teenager's War".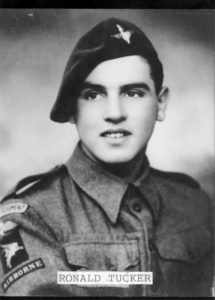 "Many people in life have a hero to look up to. I was fortunate enough to have Ron Tucker. A true friend, big brother, Airborne Dad. But most of all he was the beginnings of the Regiment in which I had the pleasure to serve. A man who loved and was in turn loved by anyone who ever met him. A true airborne warrior."